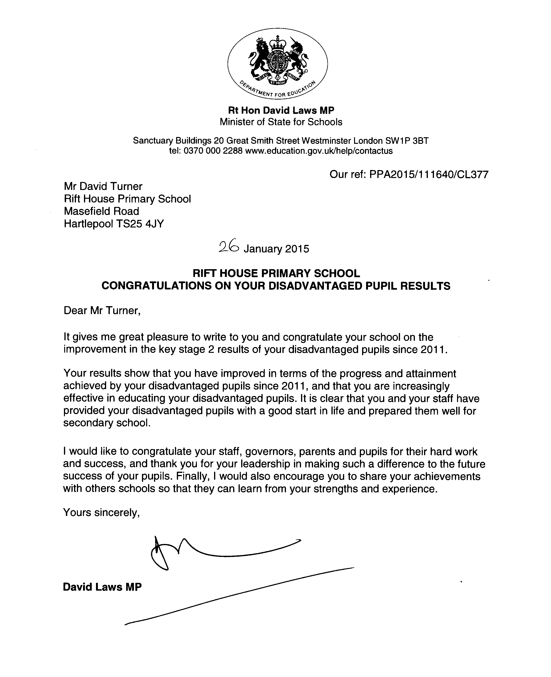 Background
The Pupil premium is additional funding which is allocated to schools based on the number of pupils who are or have been entitled to free school meals (FSM) at any point in the last six years (known as 'Ever 6 FSM').
The Pupil Premium was introduced to address inequality and barriers faced by children from disadvantaged backgrounds.
The pupil Premium also provides funding for children of service personnel and children who are or have been looked after.
The Pupil Premium was initially introduced in April 2011 when schools received an additional £488 for each pupil entitled to FSM. In April 2012 this was increased to £623. In April 2013 this was increased again to £900 and in 2014 it will increased to £1300 for each 'Ever 6 FSM' pupil.
The Government are not dictating how schools should spend this money, but are clear that schools will need to employ the strategies that they know will support their pupils to increase their attainment, and 'close the gap'. Schools will be accountable for closing the gap, and there is a planned reform to the school performance tables to include new measures that show the attainment of pupils who receive the pupil premium compare with their peers.
Summary of Pupil Premium Allocation, Spending and Impact
At Rift House Primary School stakeholders have worked together in identifying all potential barriers to learning for Pupil Premium children.
Parental attitude – prioritising other things over education
Pupil low self esteem – not having what others have
Children as carers
Language deficit – no books at home, lack of high level conversation at home
Limited social and cultural experience
Mobility – unstable home life- lack of continuity in education
Social ambition from parents
What happened that morning (hunger, tired, clothes, lack of organisation)
Parents not able to support through their own lack of subject knowledge
Negative view of school because of their own negative experiences, resulting in limited engagement
Lack of sensitivity from some adults in the education setting
Importance of attendance not recognised
Health – physical & mental – nutrition
Social & Emotional barriers – friendships, coping strategies, dealing with conflicts and relationships between all stakeholders
Lack of incentive & aspiration – lack of parent 'respect' for education as a whole "no need for schooling, my mam didn't go and she's ok" etc.
Homework – not in habit of bringing in homework and reading
Illness
Not prepared for school – no homework, PE kit, swimming kit etc.
Parents dependant on drugs & alcohol
Interest in curriculum
Unsafe & uncaring environment at home
School recognises that although quite often barriers to learning can be common for large numbers of children often these barriers can be unique to an individual child or family. Therefore in overcoming these barriers to learning school adheres to adopt appropriate strategies based on individual need.
Academic Year 2016-2017
Allocation = £ 178997
Use of allocation:
Target Areas (Barriers)

Initiative and Purpose

Cost

Improve reading Standards

School 'bookshop' to provide access to reading material and encourage reading
Lexia across KS1 and KS2 and provision of specialist staff member to run program to ensure rapid catch up in reading skills
UPS1 Teacher CPD Reading Recovery
Support Staff CPD 1-1 Reading
Read Write Inc Phonics across Lower Phase
CPD and in-class peer work to ensure staff provide quality first teaching in reading and writing
TA provision in every class to provide 1:1 reading for identified children
Implementation of whole school reading scheme
'Talk Matters' LA Initiative-HT Steering group Lead
DHT Speaking and Listening whole school assessment implementation
Membership to North East Literacy Campaign (NELC)
Develop reading areas in all classrooms
Dedicated Library area
Curriculum enrichment Days
Parent Workshops

£46000

Attendance

Social Inclusion Officer to provide support for attendance, parents and families and intervention for social skills
Attendance rewards to encourage all pupils to attend
Walking Bus
Family Support Plans

£18000

Ready to learn

Provide support for health and nutrition through subsidised daily fruit for all of KS2
Free breakfast club places for identified children to improve attendance, punctuality and a healthy start
TA in each class early a.m. to provide nurture support from start of school day
Lunchtime club to provide nurture, pastoral care and structure for vulnerable pupils
Increased admission numbers resulting in extra staff in early school phase to reduce pupil:staff ratios
Specialist HLTA provision to provide specialised support and learning opportunities and precision teaching
Enhanced psychology provision and service
Enhanced speech and language and service
Provide pre-nursery learning to ensure children enter
Foundation stage ready for nursery Improve Early Years environment and pupil:staff ratios to maximise acquisition of school ready skills
Provide parental support through in school nurture program
Environment redesign and commitment to building work (new Extension)
Designated learning areas to provide opportunity for alternative educational provision
Poverty Proofing Champion
Head Teacher Drop-in

£61600

Higher attainment

Revision of school assessment to allow for easier identification of higher attaining groups
Wave 2 and 3 intervention to support more able children
Low pupil staff ratios to ensure more able provision in place in each class

£17800

Enrichment opportunities

Continue to develop a 'Senses' curriculum; providing children with 'real life' first hand experiences
All KS2 children to visit theatre to see 'Lion King' to provide wider cultural experience
Subsidised trips to ensure pupils have wider experiences
Provision of ICT equipment and technologies to ensure pupils access and have knowledge of current IT

£10000

Ready to Teach

Embedding Excellence in the Classroom (CPD)
Focussed CPD for support staff; Precision Teaching, 1st class @ Number
Development of transition support; Exit from Nursery Meetings, Entry to Nursery and Reception Baseline Meetings
Widening learning opportunities; Core Learning Partnership

£15000

Extended learning opportunities

Subsidise residential visits to provide wider learning experiences
Provide a wide range of After School Clubs and holiday clubs to ensure pupils learning continues beyond the normal school day

£7500

Poverty proof learning

Ensure pupils have necessary equipment to fully access all learning opportunities
Provide uniform for the most vulnerable

£3097

TOTAL

£178997
Impact
In 2013 pupils in receipt of FSM ever6 at Rift House Primary School performed above the National average level for FSM in all areas. Therefore we are confident that our use of the Pupil Premium allocation is effectively closing the gap.
| | | | | |
| --- | --- | --- | --- | --- |
| | % pupils achieving Level 4 or above in Reading | % pupils achieving Level 4 or above in Writing | % pupils achieving Level 4 or above in Maths | % pupils achieving Level 4 or above in Reading, Writing and Maths |
| Rift House FSM | 84 | 89 | 89 | 79 |
| National FSM | 78 | 74 | 77 | 64 |
| Difference | +6 | +15 | +12 | +15 |
2014
| | | | | |
| --- | --- | --- | --- | --- |
| | % pupils achieving Level 4 or above in Reading | % pupils achieving Level 4 or above in Writing | % pupils achieving Level 4 or above in Maths | % pupils achieving Level 4 or above in Reading, Writing and Maths |
| Rift House FSM | 73* | 73* | 91* | 73* |
| National FSM | 78 | 74 | 77 | 64 |
| Difference | -6 | -1 | +14 | +9 |
100% of FSM pupils who attended Rift House Primary School from Y2 to Y6 achieved level 4+ in all areas. The small number of FSM pupils who did not attain level 4+ joined Rift House mid to late KS2 and were already significantly below age related expectations – these children did make rapid progress. Therefore we are confident that our use of Pupil Premium allocation is having a positive impact on performance and is effectively closing the gap in attainment.
2015
| | | | | |
| --- | --- | --- | --- | --- |
| | % pupils achieving Level 4 or above in Reading | % pupils achieving Level 4 or above in Writing | % pupils achieving Level 4 or above in Maths | % pupils achieving Level 4 or above in Reading, Writing and Maths |
| Rift House FSM | 76* | 100* | 100* | 76* |
| National FSM | 83 | 79 | 80 | 70 |
| Difference | -7 | +21 | +20 | +6 |
Value added for FSM children was 100.8 in school. National value added was at 99.8. Therefore, school is 1.0 higher than the National. The comparison between school and National Value Added in maths showed a significant, positive difference. School was 2.1 above national in this area. Average point score in all national curriculum core subjects at the end of KS1 was 15.0. National Average Point score for NFSM children was 14.8. Therefore, school performance was 0.2 points higher than all other schools nationally.