For all current information regarding Covid19 including support, timetables and Home Learning, please click the above link.
Be a Flu Fighter!
The flu jab is taking place on the 16th November for children in reception up to year 6.
Share Aware
The internet is amazing. Children can play, learn, create and connect - opening up a whole world of exciting possibilities. But with the digital world changing all the time, how can you make sure your child's staying safe?
That's where we come in. Whether you're an online expert or you're not sure where to start, our tools and advice will help you keep your child safe.
Click For More Information
Parents Forum
We have started a parents forum so that parent's valuable views and ideas can be shared. The parents forum will support the school in self-evaluation and development planning.
The parents forum will meet once every half term there will also be a whole school parents forum which will meet the week after where information discussed during the working party will be shared. All parents are welcome to attend the parents forum.
Headteacher 'drop-in' sessions every Friday
9:00 - 10:00am
Parent 'Voicebox' in the reception foyer, please add any thoughts or ideas.
(These sessions have been postponed due to Covid19, however your opinions and suggestions are vital. Please phone and request a call back or email - admin@rifthouseschool.org.uk)
Your thoughts and ideas are crucial in driving forward school improvement.
Educational visits
The 'Senses' Curriculum has been developed as school recognises that children have many different styles of learning and traditional classroom learning does not suit everyone. Even though educational visits are part of the school day and linked to the curriculum, because they are in a different setting, there is a greater sense of adventure and freedom to explore, for children to think for themselves and make connections to what they've learnt in the classroom. On school visits, children can take risks they wouldn't be able to in the classroom.
Headlice
For additional information on how to treat Head Lice, please CLICK HERE
Jargon Buster
Here we have a helpful document which explains some of the 'Jargon' which school uses.
The Sleep Charity
https://thesleepcharity.org.uk/
A national, award-winning charity empowering the nation to sleep better
We are one of the leading, independent expert voices on sleep issues in the UK and we are here to help everyone get a better night's sleep. Whether it's advice, education or support for children, teenagers, adults, workplaces or professionals, we are on hand with expert knowledge, resources and accredited training.
It's time to wake up to sleep.
We are now a cashless school. We are now using ParentPay for all payment items,
If you have not yet signed up please see office staff for information how to and your options in doing so. We can offer various options from online payments to cards for topping up in stores.
All our children have a seesaw account. This is an online portfolio of their work. Parents will soon be able to access this through an app. Find out more at your child's parent consultations.
Year 1 phonics screening Test
Children in Year 1 throughout the country will all be taking part in a phonics screening check during the same week in June. Children in Year 2 will also take the check if they did not achieve the required result when in Year 1 or have not taken the test before.
SATS Information
Do you have a child in primary school in year 2 or year 6?
If so, they will be taking the national curriculum tests (commonly called SATs) in May. The tests are not qualifications and don't affect your child's future options in school.
The results are an opportunity to compare pupils nationally to ensure schools are helping pupils to master the basics in English and mathematics, and make progress.
They are also an important tool to help teachers identify pupils who may need additional support, and make sure this is put in place as early as possible.
For more information on these tests please read (SATS) or go to your child's class page to view a short film.
Attendance
Please see the attendance page, CLICK HERE to see our whole school attendance, prizes and helpful information about your child's attendance.
Celebration Assembly
Every Monday we celebrate our children's achievements. Certificates and trophies are awarded for: Pupil of the Week Pupil Presentation Awards, Reading Awards, Attendance Trophy and Certificates and Sports Leader of the Week.
See our Events Page for other achievements.
Paper copies
Please note: paper copies can be requested containing the information displayed on this website.
Daisy chain
Daisy Chain Family support team are offering the following virtual training for parents and carers.
16th March 1pm-2pm - Sensory
30th March 1pm-2pm - ADHD
13th April 1pm-2pm - Understanding Autism
27th April 1pm-2pm - Girls and Autism
If you would like to join one of the sessions please contact Miss Dunn on 01429 275239 or contact admin@rifthouseschool.org.uk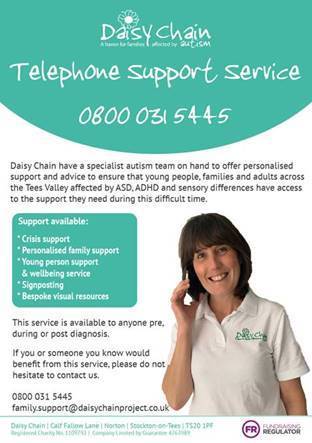 Private Fostering
If you are planning to make a private fostering arrangement for your child, or if your child is already in a private fostering arrangement you need to inform Children's Services as soon as possible.
Ofsted
Link to the Ofsted website where you will find information about how, as a parent, you can send your views.
Medication
Administering medicines to children protocol/procedure
Any child requiring 'prescribed' medicine in school must have parents/carers complete appropriate form in office.
Office will then photocopy completed signed form and will forward relevant part to class teacher.
All use by dates will be checked before storage of medicines and these will be recorded on the appropriate form.
Any medicine that is no longer needed will be returned to parents a.s.a.p.
Class teacher is responsible for ensuring child administers medicine at the appropriate time. Any child requiring medicine will be written on the displayed medical sheet in class.
Medicine will be administered in the office by Pauline McSweenie unless an alternative medical plan is in place.
Medicine will not be taken from a parent unless the above procedure is followed.
Parents must collect medicines from the office in person. Medicines cannot be given to the children to take home. Medicines will not be left in the school during the school holidays.
Term-time holiday
All holidays to be unauthorised, unless exceptional circumstances are proved. Exceptional circumstances are those considered exceptional by the Head Teacher.
Please be aware that if your child has poor attendance (less than 90%) in the 39 school weeks prior to the requested leave of absence and you choose to take your child/ren out of school for the purpose of a holiday in term time, the case will be referred to the Local Education Authority's School Attendance Team. The Local Authority will issue a penalty notice (fine) to each responsible parent in line with Department of Education guidelines and the school's attendance policy.
We encourage parents/guardians to take holidays during school holiday times in order that children may gain a full education programme and a good attendance record.