NewsletteR 12/01/21
Dear Parents/Carers,
Hope you're all safe and well.
Thank you for supporting your child with their online learning – the take up has been excellent.
Free School Meals
As of now, the government have no national voucher scheme in place. Therefore, the schools only option was to use food parcels. I know that parents would prefer vouchers as it allows more choice in the food that you buy.
We are working on how we can offer a voucher scheme instead of food parcels. Hopefully, there will be something in place before the end of the week.
The children who are in school (vulnerable and key workers) will not receive a food parcel or vouchers as they are given a packed lunch whilst in school.
As always, if you require any help or support through this very challenging time, please contact school and we will do everything we can to help you.
Stay safe, follow the rules and most of all, take care.
D A Turner
Headteacher
URGENT Update tuesday 5th January
Dear Parents/Carers,
As of tomorrow, school will only be open for those identified as vulnerable and those of key workers.
It is essential that you all understand the seriousness that this town is currently in.
Schools have been closed by the government because it is now known that children are spreaders of this awful virus into their own homes.
If you are a key worker, I strongly advise that you consider every option you have before choosing to send your child into school.
We will do everything we can to keep our school as safe as possible, but we must understand that this new variant spreads 50-70% faster than the previous strain.
Please contact school today if you are a key worker and you intend to send your child into school tomorrow.
School will contact identified vulnerable children directly by 12 o'clock today.
MONDAY 4th January
I'm really sorry to announce that I am going to have close the school to all pupils tomorrow. I am going to use tomorrow as a PD day (teacher training day) so that I can plan for reorganisation of staffing, the cleaning of the school, preparation for remote learning, organising free school meals and preparing resources and reorganising environment for children identified as vulnerable and the children of key workers.
School will be open for these children only, from Wednesday.
I will share further information with you tomorrow regarding the above.
I am very sorry for sharing this with you so very late but as the announcement was so late I have little choice to do this. I will not compromise the safety of your children, you and staff and this wonderful community.
Thanks for your understanding and support at their really difficult and testing time.
Rift House Primary School
NEWS Letter New Year 2021
Dear Parents/carers,
Please see below an update regarding the opening of schools tomorrow in Hartlepool: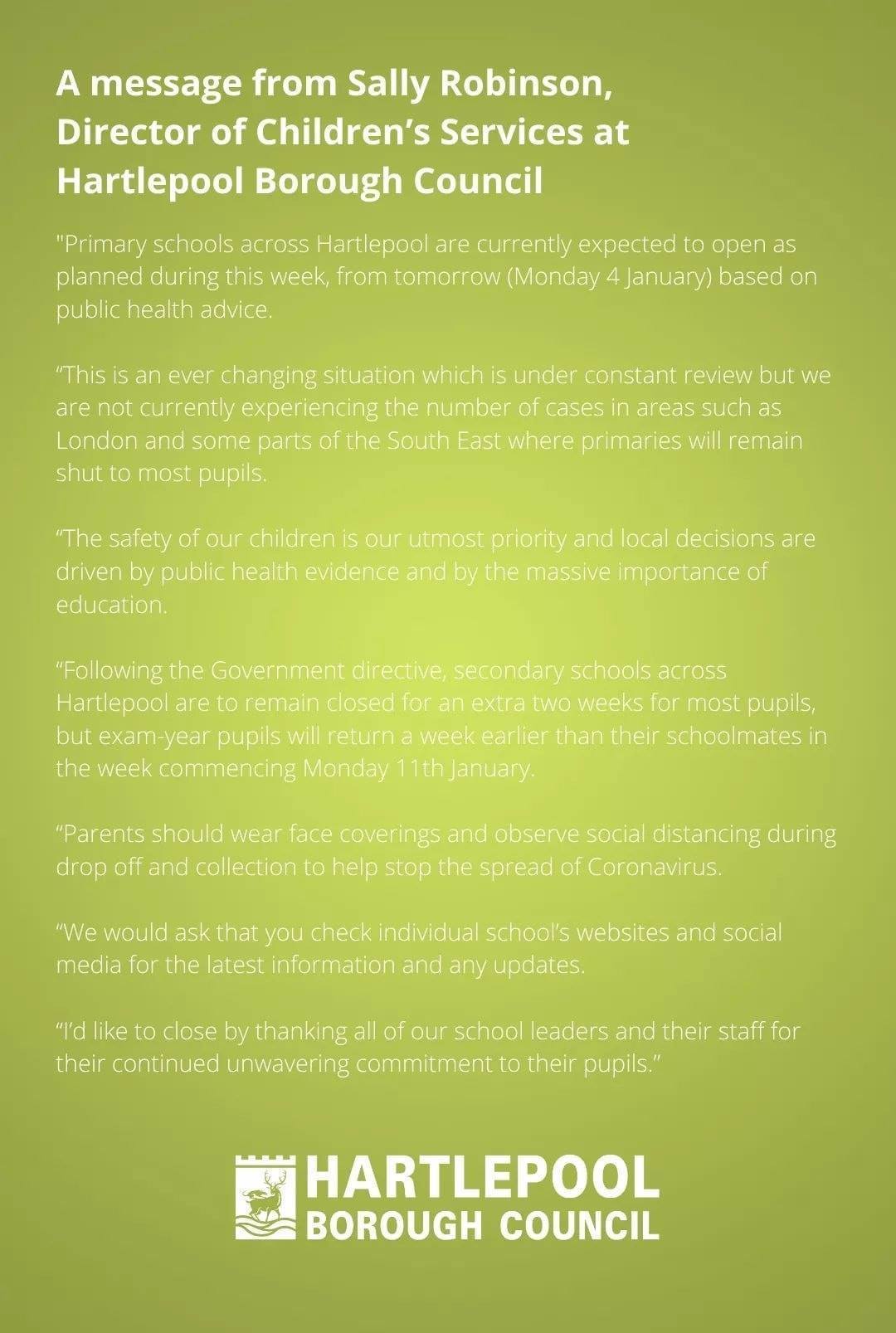 News letter - 7th December
Dear Parent/Carers
Firstly, thank you once again for your continued support throughout this very challenging year. I would also like to take this opportunity to thank our amazing children at Rift House who have shown show much resilience and who have maintained such positive attitudes throughout.
As you know, it is essential that we follow the Covid-19 safe guidelines and therefore how we celebrate Christmas this year in school has had to be different. Unfortunately, we were not able to have our Christmas Fair or our Key Stage School Performances. We do however have a number of safe activities planned:
Friday 11th December – Christmas Jumper Day
Christmas Lunch
Bring your Christmas cards into school (only if you want to)
Monday 14th & Tuesday15th – Christmas crafts in class
Wednesday 16th – Christmas 'interactive in-class pantomime'
Thursday 17th – Movies and games! (please do not bring games into school from home)
Friday 18th – 'in-class' Christmas Party (appropriate non-uniform for that day if you like)
Please Note – We return back to school on Monday 4th January 2021
Wishing you a Merry Christmas and a Happy New Year,
Mr Turner
Headteacher
School information 4/11/20
Dear parent/carers,
As you know, the country will move into a period of national lockdown on Thursday 5th November.
SCHOOL WILL REMAIN OPEN!
To help ensure that school is as safe as possible for all, in these very challenging times, all visitors are advised to wear face coverings not only inside of school, but on the school yard as well.
All staff in school will wear face coverings when not working with their own bubbles (classes).
As parents/guardians, please ensure that you wear a face covering (unless you have a valid reason not to) when entering the school yard.
Your support as always, is greatly appreciated.
Kindest regards,
Mr Turner
Head Teacher
Letter 2/11/20
Dear parent/carer
Thank you for your wonderful support last half term. We managed to get through the term without having to isolate any bubbles.
It is essential that we continue to work together to ensure that we keep school as safe a place as is possible.
As you know, signage is displayed around school to remind us all of our COVID-safe rules.
Remember that face coverings must be worn by adults in the reception areas of school.
Also, please do not send your children into school if they have any COVID related symptoms and phone school so that advice can be given to you.
I'm sure that we will work together wonderfully well as we always do, to make this half term a real success even in these very difficult circumstances.
Yours sincerely
Mr Turner
Head Teacher
Dear Parents and Carers,
Celebrating 20 years of enriching children's lives:
7 steps parents can take to help their children succeed
My name is Valsa Koshy and I am a Professor of Education at Brunel University London. Earlier this year, I was awarded an MBE for my work with children over several decades.
Building on 20 years of research and my more recent work with over 1400 parents of primary schoolchildren from all backgrounds, Brunel University London has released a news item and a video for parents. It describes 7 steps parents can take to help children succeed in learning and, at the same time, improve their health and wellbeing.
The 7 steps are:
Intelligence is not fixed and we can change a child's learning potential

There is no universally accepted definition of giftedness, talent or high ability

Find and develop your child's passion

Develop your child's wellbeing

Children's abilities do not depend on their parents' social backgrounds

Spend quality time with your children

Fight low expectations in children with special needs
After participating in the project, children of parents who learnt about aspects of intelligence, talent development and wellbeing
showed higher motivation and more enthusiasm about learning

had higher achievement

were happier and had reduced anxiety levels
We have also produced a handbook for parents and grandparents, which explores the 7 steps in more detail, as well as other relevant topics.
I hope you find the video useful. The video also features our book, which formed the basis of our project for parents.
Best wishes,
Professor Valsa Koshy MBE
Department of Education
Brunel University London